USB Hub Power Management Windows 10
If your hub is failing to detect in Windows 10 it may be turned off to save power. To fix this navigate to Device Manager, right click on the USB hub, navigate to the far right tab "Power Management" and uncheck the box labeled "Allow the computer to turn off this device to save power."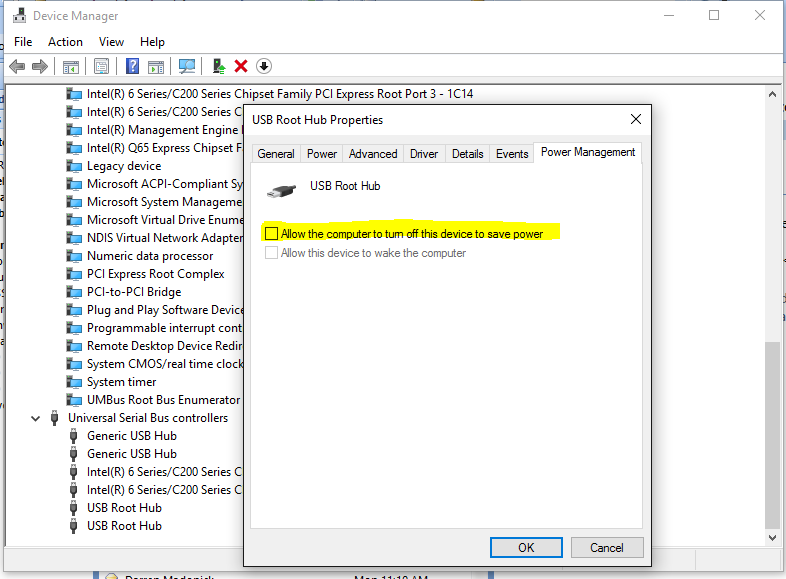 Related Articles

iOS USB Restricted Mode

As of iOS 11.4.1, Apple has introduced USB Restricted Mode, which disables data access to the USB port on the device after an hour, if a passcode has been added to the device. What is USB Restricted Mode? USB Restricted Mode is a Data Protection ...

Recommended Hardware Configuration

Single 7 Port Hub Single 20 Port Hub Two 20 Port Hubs CPU Core i5 Core i7 Intel Core i9-12900X RAM 8GB RAM (minimum) 16 GB RAM (minimum) 32 GB RAM PCI USB 3.0 Card (Click link for recommended card) Recommended Required Required 500GB SSD (Solid State ...

Data Storage Eraser (DSE) Users Guide d04.30.2020

Please keep all versions here and date them appropriately.

Lean One-Touch Installation Guide

1. Installing Lean One Touch The Lean One Touch installer can be downloaded at the following link: Lean One Touch Installer Once downloaded, please run the installer on each machine. You will be asked for your installation serial number. Your ...

SMART Test Maintenance Guide

Please see PDF attachment to this article do download the guide.